VSL3 Probiotic supplement is an old formulation. Over 20 Years old VSL3 Probiotic supplement formulation is the most studied probiotic in the  world. While other probiotics claim their effectiveness, VSL3 Probiotic is proven to deliver the expected results. Professor Claudio De Simone found this probiotic formulation in early 1990'sand was later marketed under VSL#3. However, recently the inventor terminated his contract with Sigma Tau and in collaboration with ExeGi Pharma producing Visbiome. Visbiome contains the original VSL#3 Formula.
About VSL3 Probiotic Formulation.
VSL3 is available in capsule and powder form. VSL3 capsule contain 112.5 Billion bacteria, while VSL3 powder packet contain 450 Billion bacteria. Capsules and powder packets are available over the counter. However, VSL3 is also available in prescription form. VSL3 DS contains 900 Billion bacteria per packet. VSL3 capsules come in a bottle of 60 capsules, while VSL3 sachets come in a box of 30.
New VSL3 Probiotic Supplement Formulation Is Dairy Free.
After January 31 of 2016, VSL3 probiotic supplement is manufectured in Italy same way it was in the very beginning. However, the New VSL3 formulation underwent change and is not the same. Because of dairy free formulation, VSL3 contains corn starch instead of dairy. Corn starch is used in the beginning stages of the production to grow the bacteria. VSL3 is also Kosher, Halal as well as NON GMO. VSL3 is stored and shipped refrigerated.
The Original VSL#3 Formulation is now Available in Visbiome Probiotic.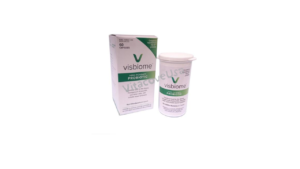 Vitamin Cove USA offers VSL3 at discounted price. VSL3 probiotic is shipped with at least one 24 oz ice pack and in styrofoam lined box.