VSL3 Probiotics can maintain ulcerative colitis (UC) in remission effectively, but little is known of their ability to induce remission.  The addition of VSL3 to conventional treatment resulted in significantly higher clinical response and remission rates. Moreover, VSL3 therapy significantly decreased the frequency of stools and rectal bleeding, resulting in overall improvement in participant well-being.
Current medical management consists of aminosalicylates, steroids, and immunosuppressants and biologics. A significant proportion of patients do not tolerate existing treatments because of their adverse effects and about 20% to 30% of patients fail to respond to the drugs given for induction of remission. Consequently, new alternatives for the treatment of UC constantly are being sought. 
VSL3 study:
In an open-label study including patients with mild-to-moderately active UC who failed to respond to mesalamine or corticosteroids, Bibiloni et al  reported induction of remission in 63% at 6 weeks using VSL #3. These results were higher than ours, but the difference perhaps can be attributed to the study's inclusion of concomitant medication use, such as corticosteroids and rectal therapies, both of which were excluded from our study. The lack of placebo control also may have contributed to the disparity in the 2 studies. In addition, another study reported similar results to ours, with a combination of low-dose balsalazide and VSL3 resulting in improvements in treatment of mild-to-moderate UC when compared with balsalazide alone or mesalamine alone. 
However, these studies had methodologic limitations such as small size; inadequate power to detect a statistically significant difference; problems in concealment of allocation, generation of random allocation, and double-blinding procedures; and use of concomitant therapies.
Review:
In the recent Cochrane review, investigators concluded that there was not sufficient evidence to support the use of probiotics in patients with active UC.Our study builds on this earlier work while paying particular attention to methodologic standards, and clearly indicates that there is a promising role for therapeutic use of VSL #3 in the treatment of mild-to-moderate UC. In the placebo group, about 20% of the patients were lost to follow-up evaluation, which is rather high for a randomized trial. This was a limitation of this study.
In the indocetamide model of colitis, pretreatment either withLactobacillus GG or VSL #3 significantly decreased the severity of colonic damage, as indicated by decreased myeloperoxidase activity and nitric oxide synthase activity.  Rachmilewitz et al showed that VSL #3 significantly decreased colonic disease activity score, myeloperoxidase activity, and histologic scores in chronic dextran sulfate sodium–induced colitis.
In conclusion, VSL #3 led to a 50% decrease in UCDAI at week 6 and clinical remission at week 12 in significantly more patients with mild-to-moderately active UC than placebo.
VSL #3 Probiotics are not required to complete the same rigorous testing as prescription medications. Customers can not be sure if the product they are getting will do the work. Label can claim anything, facts may proof otherwise. It is important to choosing a product with proven results and studies behind it.
What is

VSL #3 Probiotic

?
The press release goes on to explain that VSL #3 (VSL Pharmaceuticals) is a probiotic medical food for the dietary management of patients with ulcerative colitis, irritable bowel syndrome and ileal pouch.
Due to a big change, patients with milk allergies or lactose intolerance now are able safely take VSL #3 probiotics. Patients with corn allergies and previously used VSL 3 capsules or Sachets, may be concern, due to increased amount of corn starch added  to make VSL 3 dairy-free.
Most of all demand for the VSL3 brand continues and grows. As a result, as distributors we have more customers giving great feedback and recommending VSL3 Brand to other customers.
Original manufacturing facility in Italy allowed the VSL Brand  to revert back to an established process. This process removes all dairy while maintaining the  proprietary mix of eight strains of live bacteria."  Finally larger boxes with a new look as well as new cap to replace the peel-off covering, and  thicker powder packets are design to help maintain potency of VSL3.
Therefore

VSL3 probiotics

is a leading Brand and being in a highlight all around the world, affecting and improving lives.
Patients who saffer from ulcerative colitis benefit from VSL #3 bland.  VSL #3 probiotic contains 450 billion bacteria in each sachet and 112.5 billion bacteria in each capsule. This is one of the highest concentration currently available, consisting of a set ratio of the following eight live bacterias: Bifidobacterium breve, Bifidobacterium longum, Bifidobacterium infantis,Lactobacillus acidophilus, Lactobacillus plantarum, Lactobacillus paracasei, Lactobacillus bulgaricus, Streptococcus thermophilus. These strains of probiotics are frequently occurring species in the human gut and are generally safe.
VSL3 probiotic is available in unflavoured or lemon flavoured powder sachets and capsules. VSL powder can be consumed by adding it to a non-carbonated, cold beverage of your choice such as water, juice, or milk. Taking VSL #3 while on antibiotics will reduce it effectiveness due to ability of antibiotics to destroy good bacteria. Patients starting VSL #3 can experience mild bloating. However, there are no other known side effects.
While other probiotic formulas containing beneficial bacteria do not make it to the place they need to get and die going thru GI tract, VSL #3 probiotic are design to deliver and  make it to the colon and completing it's goal.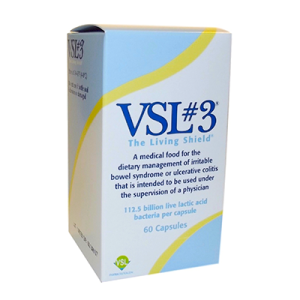 VSL3 Capsules
VSL3 Capsules is a potent probiotic medical food that delivers the highest available concentration of beneficial live bacteria of any probiotic in the world
Note: This is a two pack kit of 60 capsules. Each capsule contains 112.5 billion strains.
VSL3

Ingredients:
Eight1 strains of live freeze-dried lactic acid bacteria:
-Streptococcus Thermophilus
-Bifidobacterium Breve
-B. longum
-B. Infantis
-L. Acidophilus
-L. Plantarum
-L. Paracasei
-L. Delbrueckii Subsp. Bulgaricus
Serving Size and Dosage for VSL3: Each serving (2 capsules) contains at least 225 billion live probiotic bacteria. Each bottle contains 60 capsules. Each individual capsule contains at least 112.5 billion live probiotic bacteria
Recommended dosage: 2-8 capsules daily depending on condition.
Other ingredients: Microcrystalline cellulose, stearic acid, silicon dioxide, magnesium stearate, and vegetable capsule (hydroxypropyl methylcellulose).
Please note:
The formula allows VSL3 to be stored for two weeks at room temperature. However, we take care to ship VSL3 in insulated box and multiple ice packs. We ship VSL3 on Monday, Tuesday and Wednesday. While we do not recommend shipping VSL on Thursday, or Friday, we can, if necessary and requested.
VSL3 is certified as Gluten Free, Kosher and Halal.
Shelf Life: VSL3 lasts two years from manufacturing date when stored properly (36-46° F or 2-8° C).
VSL3 Sachtes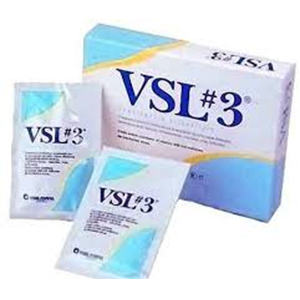 VSL3 Unflavored Sachets is a potent probiotic medical food that delivers the highest available concentration of beneficial live bacteria of any probiotic in the world
Note: This is a  one box of 30 Sachets. Each sachet contains 450 billion strains.
Serving Size and Dosage for VSL3 sachets: Each serving (1 sachet) contains at least 450 billion live probiotic bacteria. Each box contains 30 Sachets. Each individual sachet contains at least 450 billion live probiotic bacteria
Recommended dosage: 1-2 sachets daily depending on the condition.