The original formulation used in VSL3 was found in Italy over 20 years a go.  Starting from the very beginning, VSL3 formulation was dairy free. However, after the manufacturing facility of VSL3 moved from Italy to USA, VSL3 stopped being dairy free. For many years VSL3 provided its customers with relief from conditions like UC, IBD as well as many other conditions. Most resent move of manufacturing back to Italy, allowing for VSL3 conversion. The new formulation of VSL3  became daity free ones again.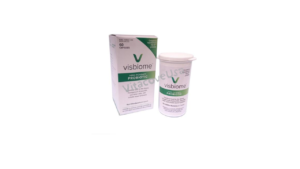 VSL3 Conversion to a new Dairy Free formula.
The new formulation of VSL3 is also available in powder and capsule form. However, VSL3 conversion effected the production process as well, as some of the products was eliminated. For example, VSL3 Junior Powder Packets were discontinued from the production as well as VSL3 Flavored Packets. However, VSL3 Capsules and VSL3 Unflavored Powder Packets are available in a new redesign packaging. New VSL3 Capsule bottle does not have a safety seal under the cap or clear plastic seal, the way it used to have. Instead, it has a safety ring. VSL3 Unflavored Packets come in a larger box and  the packets stayed the same.
VSL3 is a High Potency Medical Food and contains one of the highest concentration of live bacteria available in any probiotic in the world. Available in Capsules and Powder Packets form. VSL3 capsule contains 112.5 Billion Bacteria, while each VSL3 Powder Packet contains 450 Billion Bacteria per Packet. VSL3 Capsules are available in a bottle of 60's, while VSL3 Powder Packets come in a box of 30's. New VSL3 formulation is Dairy Free, Kosher as well as Halal. VSL3 capsules and VSL3 powder packets are available over the counter, however VSL3 DS requires a prescription. All VSL3 products can be taking under the supervision of a doctor or a physician.