Visbiome ES contains the highest available bacterial cell count in the world.  Regular Visbiome capsules and Packets contain lower bacterial cell counts and are available over the counter.
Created by professor Claudio De Simone,  Visbiome has come a long way. Visbiome formulation is design to provide its customers with relief from many digestive system diseases symptoms. In addition, this is the most studied probiotic on the market, with over 60 clinical trials.
Visbiome ES Formulation:
Eight strains of live freeze-dried lactic acid bacteria:
-Streptococcus Thermophilus
-Bifidobacterium Breve
-B. longum
-B. Infantis
-L. Acidophilus
-L. Plantarum
-L. Paracasei
-L. Delbrueckii Subsp as well as Bulgaricus.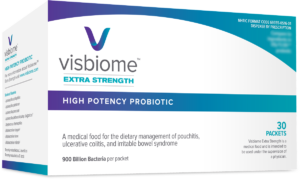 With highest available concentration of bacteria in the world, this formulation is now available in a new Visbiome Probiotic. Visbiome ES is a chipper alternative to other brands, because using already established production process. Visbiome ES contains the original De Simone formulation. Visbiome  probiotic comes in a capsule form, as well as a powder packet form.
Most noteworthy, Visbiome ES is only available with a physician's prescription.