Bell Lifestyle – #1 Shark Cartilage for Joint Support 750 mg. – 100 Capsules
Bell Lifestyle #1 Shark Cartilage for Joint Support 750 mg. promotes healthy joints, helps facilitate healthy joint function, provides building block nutrition that nourishes connective tissue, and is 100% pure Shark Cartilage. All natural formula is free of fillers and responsibly sourced. When it comes to our joints, we want them to bend and move smoothly without friction and discomfort. But as we get older, cartilage can wear down causing less flexibility and more discomfort. This is especially true for those with past joint and bone issues.
With this in mind, Bell Lifestyle Products created Bell Joint Support which features active, bio-available nutrition that nourishes cartilage and optimizes healthy joints. It primarily consists of shark cartilage with naturally occurring shark chondroitin, which helps maintain structures that facilitate healthy joints. Chondroitin is also a "raw material" nutrient for cartilage, connective tissues and lubricating factors within the joints. It supports the plump, cushy, hydrated "shock absorber" cartilage that is necessary for optimum joint health. Shark Cartilage is a by-product of the food industry.
Bell Shark Cartilage:
Promotes healthy joints
Helps facilitate healthy joint function
Building block nutrition that nourishes connective tissue
100% pure Shark Cartilage
Unlike other companies that deodorize Shark Cartilage which can greatly reduce its effectiveness. Bell Joint Support is formulated through a unique process.  This process preserves all active ingredients. They preserved only the best ingredients in Bell Joint Support, so that you can preserve the things you love to do. Don't let joint discomfort stop your lifestyle, add mobility as well as flexibility support back into your life!
About Bell Lifestyle
In 1996  Nick A. started Bell Lifestyle Products, sharing the power of natural health products to the world. Today, Bell Lifestyle Products continues to grow. Nick's dream of helping others and increasing the quality of their lives with high quality, dietary supplements. Bell Lifestyle Products has over 50 natural health products available in over 7,000 health food stores and pharmacies across  the United States as well as Canada.
Nick's Story
In the mid-1990s, Nick Jerch was dealing with a health issue. Like many people as they age, he had discomfort. While taking his natural supplement, he realized it is helping. Nick was surprised that something could be natural and yet so effective, but most people didn't even know about it. Nick offered the product to his friends, however, he remain skeptical. t
That led to the first newspaper advertisements, and set the stage for a company with a purpose of helping people attain better quality of life with dietary supplements. In the following years, many products have been added and Bell Lifestyle hears from people every day telling them about their stories of success and happiness. Nick jokes that having discomfort himself was a lucky thing that allowed him in turn to help hundreds of thousands of people. Helping people, he says, gives him great satisfaction in his life. Bell products are sold around the world.
About Bell Products:
Bell Lifestyle Products Formed
From there, Nick started Bell Lifestyle Products with the purpose of helping people attain a better quality of life with dietary supplements. Nick began by selling Shark Cartilage to his friends and family. Today, Bell Shark Cartilage continues to be the oldest and best selling Bell Lifestyle product available.
When Nick decided to sell nutritional and herbal supplements for better health, he made sure to create products that would be good enough for him and his family to use. This is one of the founding principles that built Bell Lifestyle Products. At the same time, he still believes that it is "still more rewarding to contribute to society and serve a cause greater than yourself". To Nick, "there can be no greater satisfaction in life than when men and women write about the quick relief they get with Bell health products". In fact, Bell Lifestyle Products is one of the few nutritional health companies that supplies written testimonials with full contact information of thousands of real satisfied customers.
Empowered by Nature
"Empowered by Nature" All Bell products, made out of  the best ingredients to empower the health and lives of people around the world.
Bell Manufacturing:
Good Manufacturing Practice
Bell Lifestyle Products follows Good Manufacturing Practices (GMP) for the development and production of all of their products.
FDA Registered Manufacturing Sites
Bell products are manufactured in US and Canada. All sites are FDA registered.
Expert Team
Bell Lifestyle's consulting team of experts include scientists, doctors, master herbalists, registered pharmacists, and nutritional consultants.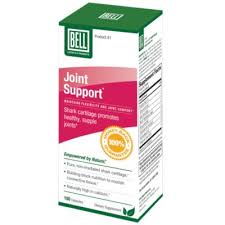 Shark Cartilage for Joint Support 750 mg. – 100 Capsules is Available at Vitamin Cove USA.