Bell Tea – Ezee Flow Tea by Bell Lifestyle products is design for the treatment and prevention of various urinary problems related to prostate health in men. Bell Tea is a natural, oral prostate formulation. Natural combination of 12 different herbs, proven in multiple scientific studies to be beneficial to prostate health.  Bell Tea – Ezee Flow Tee contains saw palmetto, ginseng, and stinging nettle extracts. While Bell Tea – Ezee Flow Tea specifically marketed for urinary issues, makes it to believe that its main active ingredients are used and complement other ingredients for therapeutic support.
Besides saw palmetto and stinging nettle extracts, Bell Tea – Ezee Flow Tea also contains some detoxifying and cleansing ingredients such as lemon and cranberry. Palmetto and stinging nettle extracts help flush the urinary tract and re-establish a clean path for the urine stream.
A bottle of Bell Tea contains 120 g of the herbal formulation supplied in tea form. Two large caps daily will initiate the treatment. Therefore, each bottle of the product should last for about 15 days. After the improvement, one cup daily should maintain the result.
Signs of improvement will appear some time after starting with supplement. Therefore, it is important to strictly follow the recommended dosage for a considerable length of time before determining whether Bell Ezee Flow Tea works or not.
About Ezee Flow  Bell Tea.
With the combined power of twelve different herbs for urinary frequency.
An easy-brew tea, bulk packaged to save you money.
Tastes delicious hot as well as  cold – something you'll look forward to as part of your morning routine.
Do you find yourself making frequent trips to the bathroom every half hour, day and night due to urinary frequency? If you are one of the 40 million men dealing with urinary frequency, Ezee Flow Tea is the perfect natural solution to help ease the flow and normalize urinary frequency without the burning and dribbling.
Because your time and sleep are valuable; don't waste it any longer with frequent bathroom trips! Try Ezee Flow Tea today!
Bell Tea – Ezee Flow Tea was developed by Bell Lifestyle Products' founder Nick Jerch to help those dealing with the burning and dribbling effects of urinary issues.
Ezee Flow Tea's special formulation consists of twelve herbs. It includs cranberry and chamomile that are not only effective together, but also taste great!*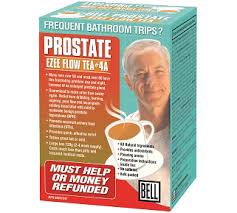 Bell Ezee Flow Tea is available at Vitamin Cove USA.