Description
Genital Wart and other types of wart removal.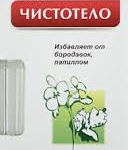 Wart Removal. How to Get Rid of Warts Fast.
Wart removal, Get Rid of Warts Fast.  Chistotelo is the solution to how to get rid of warts. Do YOU have Warts? The solution to how to get rid of warts fast doesn't have to be an expensive medical treatment, neither a costly aesthetic procedure. You can cure these skin growths caused by HPV (human papilloma virus) in the comfort of your home, using only natural cure. Chistotelo Wart Removal effectively treats Facial and Genital wart..
Chistotelo wart removal
Wart removal product Chistotelo is is a product that will remove warts. It removes layers with each application, oldest and largest warts usually require fewer applications. Chistotelo makes possible to get rid of warts without spending a fortune on doctors' visits.  Protect surrounding area when treating warts. After some time after application of this wart removal product the treated area will change color and get darker. After second application the wart is usually invisible and treated area looks caved in. With more treatment this wart removal product creates deeper indentation getting rid of unwanted wart tissue. Most important, always protect surrounding area
Hand wart removal.
Treatment on hands and feet is usually  not painful at all, while more sensitive areas could be more painful. Therefore very small amount should be applied until the wart  appears wet. Most important to, avoid dripping on healthy tissue. After wart is gone, the healing process begins and usually take as long as any other cut or scab. Finally keep treated area clean and moist with triple antibiotic or bacitracin for smaller scaring. While  applying to a sensitive area this wart removal product can burn on contact. Papilloma's usually are gone on second day.
Genital warts are usually more painful because of sensitivity of the area. The same rules applied, protect surrounding area, apply small amount, avoid dripping.